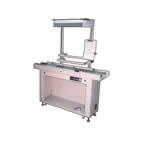 BHT5-1 Inspection Conveyor
Parallelism of the conveyor can be kept within 0.5/1000mm.
Multiple board stops can be added to improve productivity.
Compatible with SMEMA or contact type machine interface.
Use of low voltage electrical devices for safety operation.
Options for inspection, working table, component container holders, document holder, lighting, hand button, foot pedal switch, timer... are available.
Suitable for Auto or Manual Insertion and SMT lines.
Reversible board transfer function provides flexible connection.
Self-diagnostic function supervises board-jamming problem.
Conveyor belt can stop automatically when conveyor is idle.